Clarendale Six Corners Donates $100K TO LOCAL HIGH SCHOOL
Clarendale Six Corners is investing in the revitalization of Chicago's vibrant Portage Park neighborhood with a $100k donation to Carl Schurz High School by way of Friends of Schurz, a neighborhood group that supports the staff and students of Carl Schurz High School.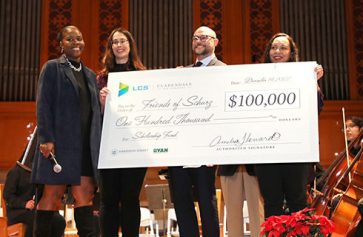 This is the largest donation they've received and will be allocated for scholarship funding for students in addition to support for educational excellence, extra-curricular programs, and infrastructure.
The donation is made in collaboration with Ryan Companies, the national real estate developer, who has been a key partner in the construction of the Six Corners area in Northwest Chicago. The check was presented at the high school's local winter concert on December 14 by Clarendale Six Corners Executive Director Amelia Howard and Assistant Executive Director Paul Lloyd.
The scholarship application period will be open to students in early 2023. A selection committee will meet to review applications and award funding beginning with 2023 graduates.
As experts in senior care, Clarendale Six Corners is committed to taking care of loved ones, keeping families together and strengthening the local community. Opening in early 2023, Clarendale Six Corners promises to provide local seniors with both hospitality living and expert care. To learn more about Clarendale Six Corners, contact us here.